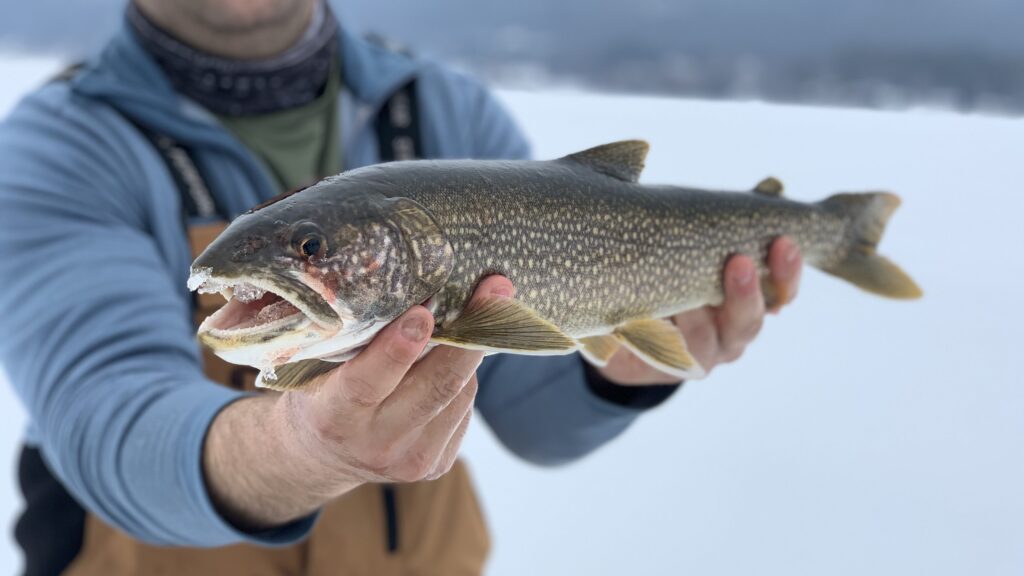 Ice Fishing in the Adirondacks
Ice Fish the Adirondacks from spacious, heated shelters protected from the elements a short distance from the Lake Placid, Saranac Lake, Lake George and Tupper Lake regions! Target all species ice fishing for Yellow Perch, Northern Pike, Atlantic Salmon, Trout, Walleye and more. Get the best out of your fishing trip by hiring an Adirondack Ice Fishing Guide and allow our team to take you right to the goods. Our program is dialed, our trips are safe and productive, and our team of guides are awesome people! We hope you join us for a great day Ice Fishing The Adirondacks!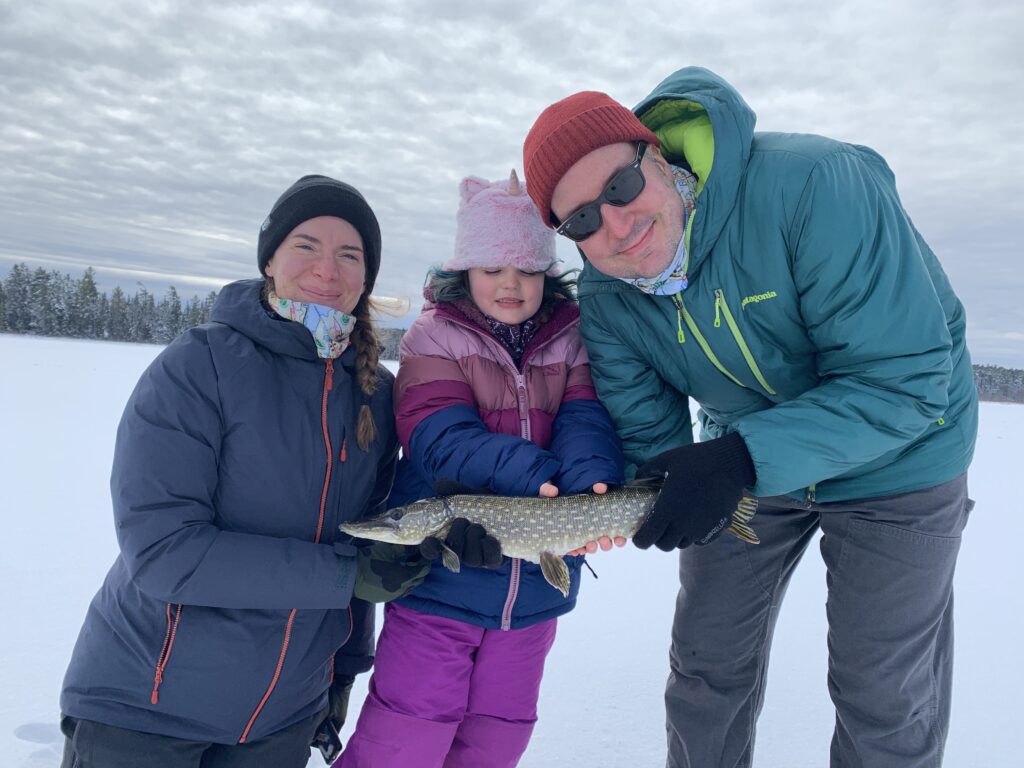 Two-Hour Experience
Trip Length: 2 hours . 6 anglers max per guide.
This trip is designed as a quick introduction to ADK ice fishing. Perfect for groups with time constraints, anglers looking to try out ice fishing, families with young children, or anyone looking for a trip with less time commitment!
---
Half Day
Trip Length: 4 hours. 4 anglers max per guide.
This trip allows more time to explore and venture further into the frozen desert. Your Adirondack Ice Fishing guide will provide all necessary equipment: Heated shanty, tip ups, rods, bait and tackle provided.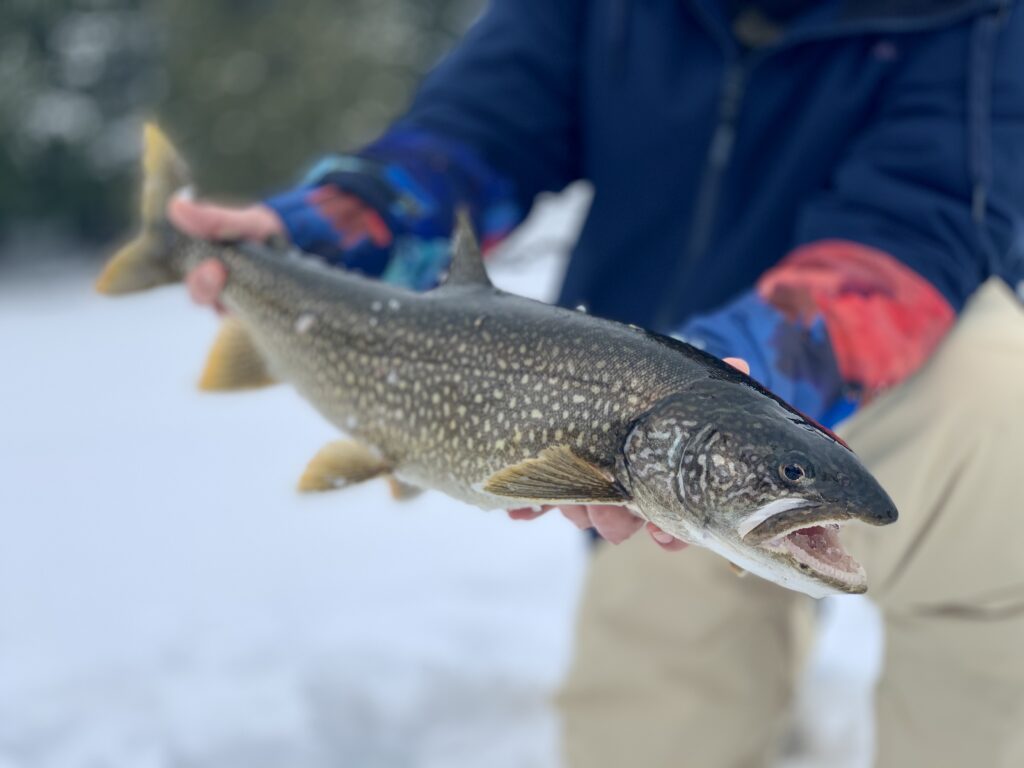 ---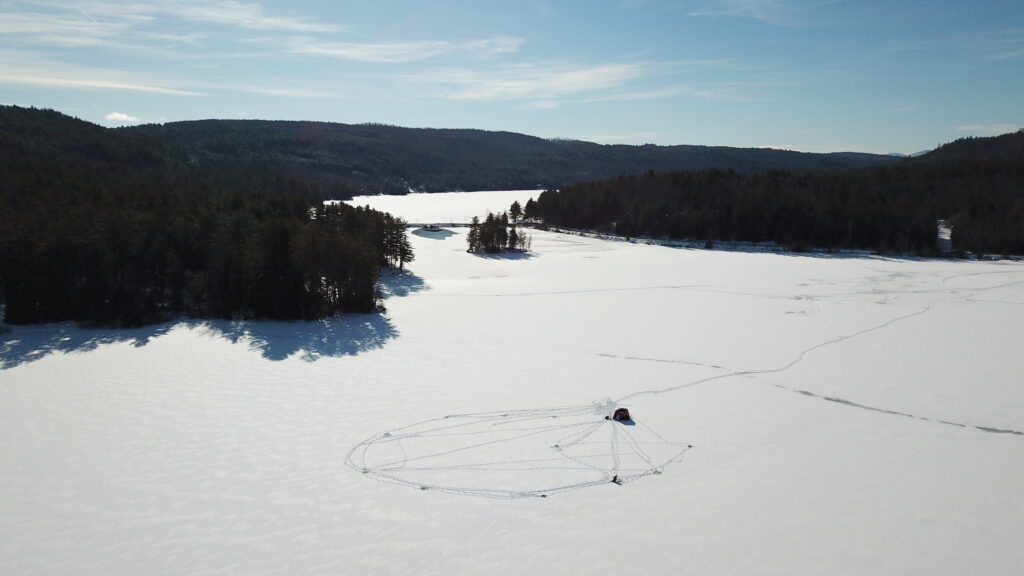 Full Day
Trip Length: 6 – 8 hours. 4 anglers max per guide.
This trip is designed for the die hard angler looking to hit both peak fishing times of the day and explore a larger area of the lake. Your Adirondack Ice Fishing guide will provide all necessary equipment: Heated shanty, tip ups, rods, bait and tackle provided. A light lunch snacks and warm beverages also provided.
---
Ice Fishing Day Rates
---
Frequently Asked Questions
What is included?

As a full service outfitter all of the equipment and necessary instruction is included on all of our ice fishing trips. We provide all ice fishing equipment, safety equipment, ice fishing shanties with heaters (1 shanty for every 4 anglers), bait and tackle, Garmin fish finders, and if conditions permit – Underwater cameras. Full Day Ice Fishing Trips do include Lunch, snacks, and beverages.
Where do we meet our guide?

Once your date is confirmed your guide will reach out to you for introductions and be available to answer all ice fishing questions that arise as you prepare for your trip. Prior to your trip, we will send you a google maps PIN and detailed directions where to meet your guide on the day of your trip. There is quite a bit of set-up for each trip and your guide will have the set up complete prior to your arrival to ensure that your time is spent fishing, NOT spent setting up.
What to bring

Your guide will provide everything you need for a successful day on the ice. We provide all of your fishing and safety equipment so all you need to bring is warm winter clothing (winter hat, winter gloves, balaclava, warm winter jacket, snow pants) , waterproof boots and a fishing license (if over 16).
What Species will we target?

That is up to you and your guide! Depending what you are after, we will assign you to a guide that is best for your request. If you want to jig a large body of water for lake trout or salmon, fish tip ups and dead stick for northern pike, or go for high numbers of panfish we can make it happen.
How do we pay?

Adirondack Ice Fishing accepts CASH, CHECK, or VENMO. You may pay with credit card for a 3% service charge
Should we tip our guide?

Gratuities are not required or included, but are encouraged if your guide put forth their best effort to provide a safe, entertaining, and successful guide trip. The fishing industry recommends the standard service industry rate of 20% gratuity as a ballpark for gratuities.
Where do I buy a fishing license?

A New York State freshwater license is required to ice fish if you are over 16 years old. There are no additional stamps or specific addition needed for ice fishing in the Adirondacks.

You can buy your NYS Freshwater fishing license here:
Ice Fishing For Lake Trout
I love Ice Fishing. The solitude and wide-open spaces that a frozen Adirondack lake provides is something I look forward to all year long.  During the winter months there can be many different lakes and ponds to choose from, and when I have a day off from guiding we are definitely going Lake Trout fishing. There is something about jigging for lake trout that never gets old. Connecting the dots to get a nice laker through the ice can drive an angler mad. They are aggressive, strong and grow to massive sizes. They can be found all over the water column, and even when you find them, they don't always want to commit.
Where to find them?
With any style of fishing your success relies upon knowing where and when your target species is feeding. Therefore you must find the forage base that lake trout are after. In our area we have a lot of lakes with decent Smelt populations, who like to cruise in open water in the middle of the water column. The help of a fish finder is crucial to know where the fish are, where your baits are, and how the lake trout are responding to your presentation. Drill a handful of holes around steep depth changes and hop around until you start marking fish on your fish finder. Repeat the process until you find consistent marks on your screen.
Tackle for Ice Fishing for Lake Trout
To begin I will rig some 32''-36'' medium heavy rods with 10lb test. Then we tie on 3.5'' tube jigs in pearl white or chartreuse with 1/4 ounce – 3/8 ounce jig heads. Finish it off by tipping the hook with a chunk of live bait and you're ready to go. Ill also have a variety of vertical jigging spoons and rattling rapalas to draw the fish in as another option. Lake Trout are notorious for following lures so when you see a fish approach you want to start your retrieve up the water column to draw the fish toward your bait. 
Once on fish, whether you have hooked up or you see them streaking on your electronics, trends will develop what triggers strikes. The only way to hook up is to get out there and do it! Lake trout jigging can be a light carry, easy run and gun when you have just a few hours to fish or want to sample a new water. There are literally millions of Lake Trout spread throughout The Adirondacks. in addition to all the stocking listings on the www.ny.dec.gov, many waters also have native populations. Wherever you are in the park, you're not very far from several Lake Trout jigging opportunities. Hire an Adirondack Ice Fishing Guide and allow us to show you where and how to start.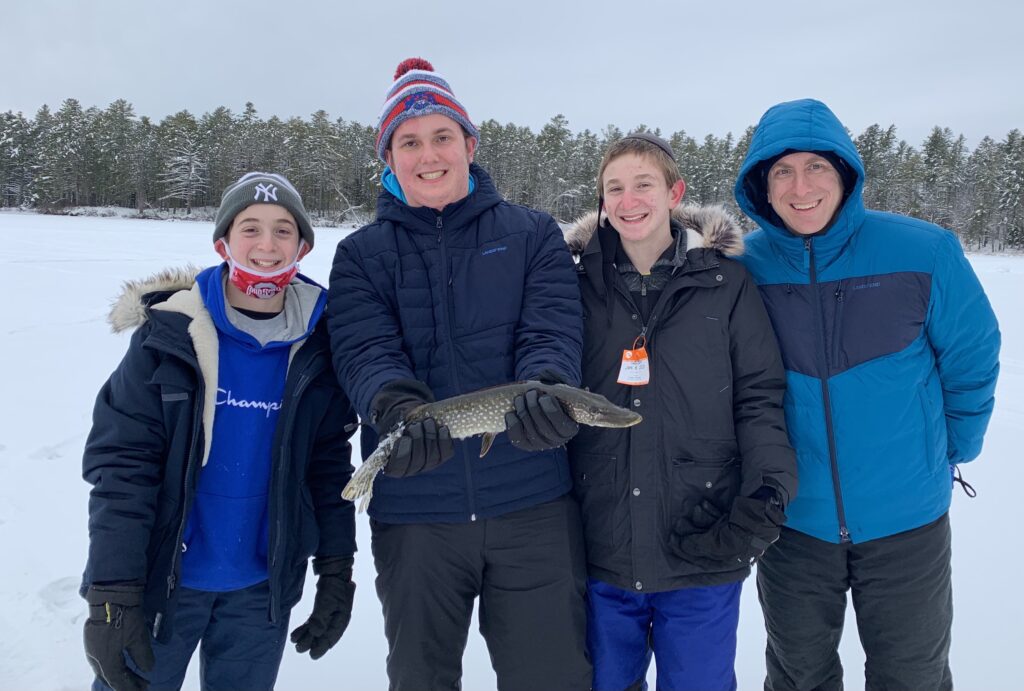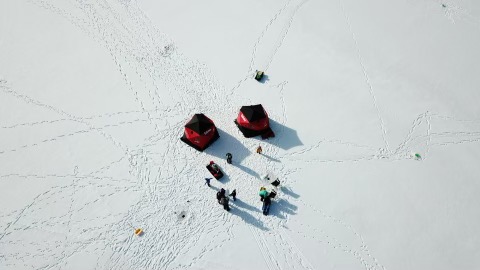 Explore the Beautiful Frozen Desert of the Adirondacks!